Kabardino Balkarian State of University is among the top institutes for medical education in Russia. It has achieved a significant place as one of the best institutes in North Caucasus. It is situated in Nalchik, Kabardino-Balkaria, Russia since April 5, in the year of 1957. Various educational programs in Post Graduation (PG) and Under Graduation (UG) are conducted at Kabardino Balkarian State University. KBSU is approved by the Medical Council of India (MCI) and World Health Organization (WHO).
KBSU is one of the top institutes to achieve the degree MBBS in Russia. The faculty staff of the university is commendable and competent to provide absolute information and practice to the enthusiasts. Students are acquired with the practical and theoretical skills about the medicines and surgeries thoroughly. The education method of the institute is praiseworthy and helpful to the students. It has achieved a remarkable position among the top medical institutes in offering MBBS (bachelor of medicine bachelor of surgery) program. KBSU is all set with laboratories having latest instruments to practice to understand thoroughly.
Why Kabardino Balkarian State University?
The Kabardino Balkarian State University is one of the well known universities in Russia that offers MBBS course. KBSU has a noteworthy contribution in qualifying the experts in medical fields. At KBSU, they provide a sociable infrastructure with valuable education approach. Every year, around 2000 students of bachelors, master and doctoral degree are approved. The KBSU is placed along with the best 100 educational institutes of medical science. The fee structure of the Kabardino Balkarian State University is commendable and helps the student to manage the educational cost. Furthermore, KBSU provides non-academic programs such as sports activities, library, student exchange program, administrative services, student council and many others. For the wide exposure and knowledge sharing, the institute conducts interactive events on new research projects.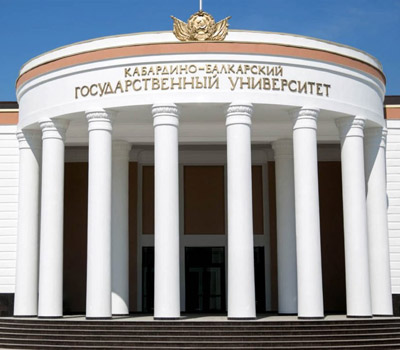 KABARDINO – BALKARIAN STATE
MBBS FEE STRUCTURE 2023 FOR INDIAN STUDENTS
Students willing to enroll in the university need to pay tuition fees directly to the university prior to start of the semester. However, students are permitted to pay tuition fees in installments too if required.
| Tution fee | Hostel fee Per Year | Insurance | Visa converstion | Total Course fee |
| --- | --- | --- | --- | --- |
| 1,75,000 | 7,000 | 7,000 | 1,600 | Rs 8,15,000/- (12033 USD) |
Note :
Tuition Fees should be paid directly to the university.
Final amount may vary somewhat on the basis of currency exchange rate on the date of payment.7
Top MBBS Colleges in Russia